Automation & Control
---
Speed governors
Digital or electro-hydraulic analogue governors and mechano-hydraulic governors, for all types and sizes of hydraulic turbines.
Automation and control panels
By UCM Reºiþa, are designed, manufactured and tested control panels and boxes, component part of the automation units for hydro power stations. Further on, we shell detail two of the control panels indented for hydropower unit automation, respectively the generator protection, measurement of electric parameters and generator synchronization with the energetic system.
Automation panel for H.U. DAx-1
The dimensions of the panel DAx-1, one for each hydro unit in the power station, will have maximum 2300x800x800 mm, IP55 protection degree. Following items are fitted in this panel:
- One programmable PLC automat for:
Acquisition and processing of field data;
Communication on the local network with PLCs at level 1 of automation (local control boxes) and communication on the Ethernet process network with PLCs at level 2 (automatic speed governor - RAT) and with the PCs at level 3, local dispatcher of the power station;
Start/Stop controls of HU in manual/automatic condition; increase/decrease of voltage and speed; connection to the power supply; loading; fire extinguishing in the generator, closing/opening of intake valves.
- One touch-screen operator, 12" TFT to provide the man-machine interface function (operator panel, display)
The automation panel will be provided also with signaling lamps, knobs and control keys, intermediate relays, automatic fuses, clamps, etc. in this panel will be located also a programmable automat for emergency stop in case of failure of APx automatic device, that will communicate on Ethernet with the PCs located in the control room.
DAx-2 protection panel for the generator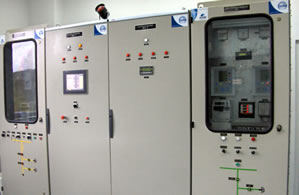 The DPx panel, one for each generator, will have the dimensions 2300x800x800 mm, IP55 protection degree. The equipment within this panel provides protection of the hydro generator, measurement of electric parameters, automat and manual synchronization, as well as signal transmission to the automation panel DAx-1. Following items will be located in this panel:
Two multifunctional protection relays for the generator, provided with a communication interface on RS 485 support, protocol Modbus RTU, digital inputs/outputs;
One protection relay against rotor grounding;
One automatic synchronization device;
One synchronism control module;
One digital device for electric parameters measurement;
One energy flow meter;
One set of devices for manual synchronization (synchronoscope, double frequency meter, double voltmeter);
One set of current/voltage test blocks, intermediate relays, clamps, etc.
The digital protection relays are provided with serial support RS485, protocol Modbus RTU.
Physically, the contacts made by the relays - programmed to indicate tripping when the protection is switched on - are send to the automation. Also, the signals will be sent directly to the trip coils of the switches.



---------------------